Dendro Hypostasis is an elite boss found in the Sumeru region. It drops a number of useful items, including Artifact Sets, Dendro Hero Ascension Materials, etc. In this guide, we will describe the boss's abilities, explain how to kill Dendro Hypostasis in Genshin Impact, and provide a complete list of loot that can be obtained. obtained after defeating this opponent.
Content:
1. Basic information about Dendro Hypostasis
| | |
| --- | --- |
| | Dendro hypostasis |
| Category | world boss |
| Required amount of resin | 40 |
| Description | It is a highly concentrated element of Dendro, the highest form of elemental structure that appears in areas with an increased elemental background or a complicated elemental patency. This creature closely interacts with Dendro and has created defense mechanisms based on it. |
Location of Dendro Hypostasis
To fight Dendro Hypostasis, you need to go to the dungeon, which we will inform you about later, as soon as more information about the new world boss becomes available..
---
2. How to kill Dendro Hypostasis: strategy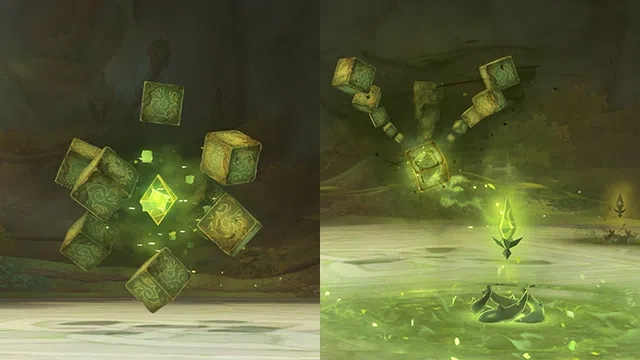 A hypostasis that uses an inert shell to protect itself. It now displays deviations due to being subject to some unknown influence. You have to be aware of when his elemental core opens up and can be effectively attacked. When he is in danger, he will release 3 Restoration Cores that have the properties Trilakshana creatures. Use Dendro to revive them and induce a Normal state in those Cores to continuously spam Dendro damage to hypostasis, and use Electro to induce their Activated state and speed up the cleansing process. Using dendro attacks on the dendro core of hypostasis can also help lay down the creature.
---
3. Recommended heroes for the battle with Dendro Hypostasis
Below we will present the character sets that are best suited for fighting Dendro Hypostasis. But first, it's worth saying that when assembling a squad, always choose heroes with the following roles:
1 main damage (DPS, dealing basic damage);
2 additional fighters (sub DPS);
1 support hero (healer).
Alternative variation of the group:
1 main damage dealer (dealing basic damage);
1 additional strong fighter;
2 support heroes (healers).
| | | | |
| --- | --- | --- | --- |
| DPS | sub DPS | DPS/Sub DPS | Support |
Change characters wisely
Once Dendo Hypostasis becomes vulnerable to attacks, use the elemental abilities of additional fighters, and then quickly switch to the main DPS. This will give the boss the opportunity to inflict as much damage as possible until the protective shell is restored.
Use the abilities of healers
If you're having trouble dodging boss attacks, pick your healer more often and heal the group. It is best to take on a team to fight Dendro Hypostasis Cookie Shinobu.
Accumulate Elemental Explosions
We recommend not spending elemental explosions (ultimates) until the moment when the boss's core loses its protective shell. The rest of the time, use the elemental skills of the heroes one by one, and while they are being restored, hit with normal attacks. Charged attacks cost stamina to dodge Dendro Hypostasis' abilities.
Elemental damage is the key to victory
To defeat Dendro Hypostasis, it is very important to choose heroes with powerful elemental abilities. They will inflict maximum damage on him and quickly destroy the electric prisms. In addition, most paid characters have elemental skills restored within a short time.
Elemental Synergy
Heroes that pair perfectly with the core DPS element will boost damage against the boss and create sustained elemental reactions. This greatly simplifies the battle and makes it possible to defeat the enemy with minimal time.
---
4. List of items that can be obtained for killing Dendro Hypostasis
---
Which characters need materials from Dendro Hypostasis
The guide will be updated with details after the release of the boss in version 3.2