In this guide, we will show you how to solve the puzzle with elemental monuments (geo, anemo and electro) on Pudding Island in order to gain access to valuable chests.
Archipelago of the Golden Apple teeming with puzzles and one of the complex and incomprehensible riddles meets players on Pudding Island. Our guide will clarify the situation with elemental monuments, explaining how to activate them and advance in the region.
Once finished with the monuments, Genshin Impact players can get three Rich Chests and one Precious Chest, so any self-respecting Traveler won't want to miss out on all this richness.
Note: you must complete a series of quests Spring patio of yesteryear.
How to solve the elemental monument puzzle on Pudding Island in Genshin Impact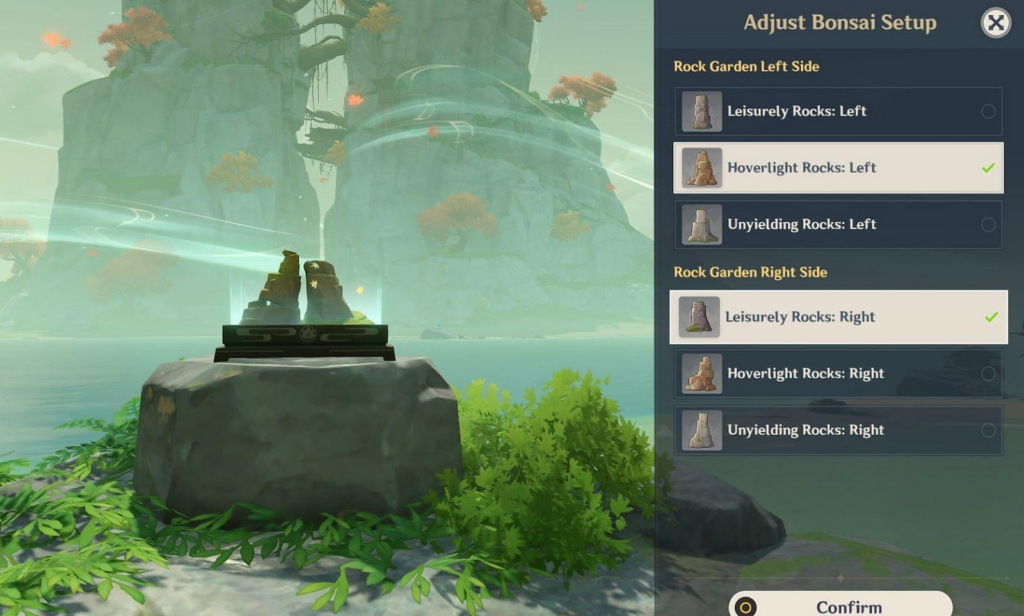 The northwest teleport point on Pudding Island will take players very close to this bonsai. Select the option "Change the location of the bonsai" as soon as you get close to her. Make sure the following gems are selected:
Glowing stone: left
Serenity Stone: Right
A brief loading screen will appear. Some elemental monuments will be blocked, so it's time to check the electro monument puzzle first.
Electro monuments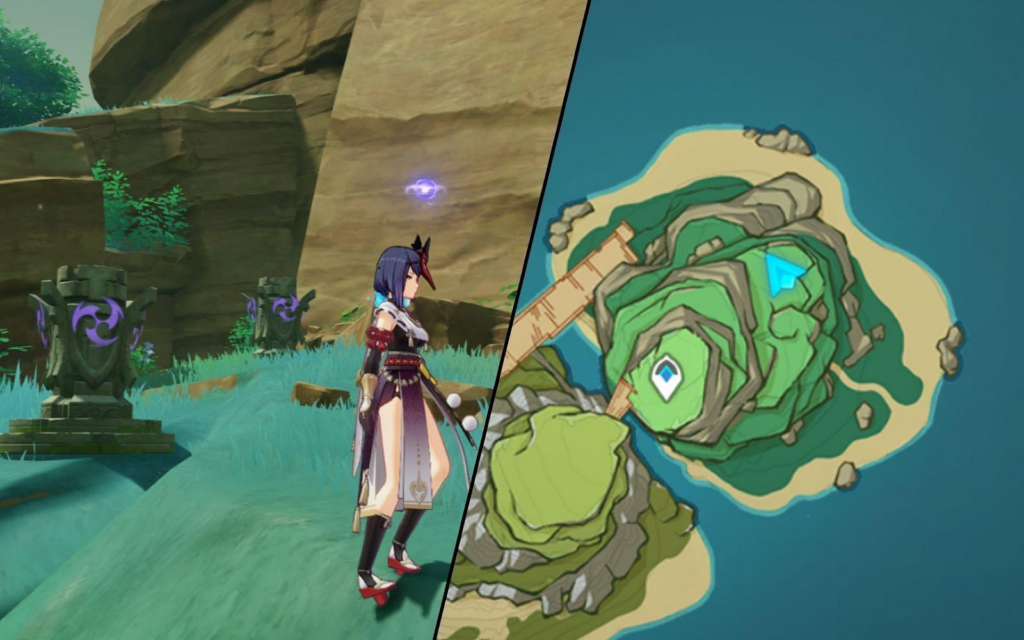 To find the Electro Monument puzzle, head northeast of the Pudding Island east teleport point. Genshin Impact players cannot simply attack all the monuments in any order; there is a certain order to be kept in mind. They should add an Electro character to their team if they don't already have one (preferably one that can easily spam Electro).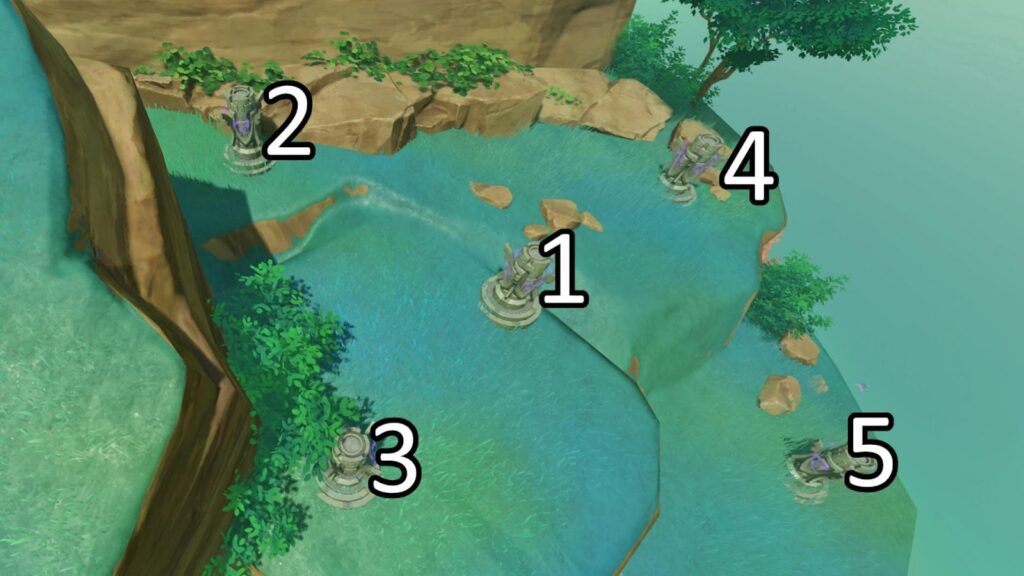 The image above should speak for itself. Hit the center first and then follow the order shown above. If you do it right, Genshin Impact players will receive a Rich Chest.
Anemo monuments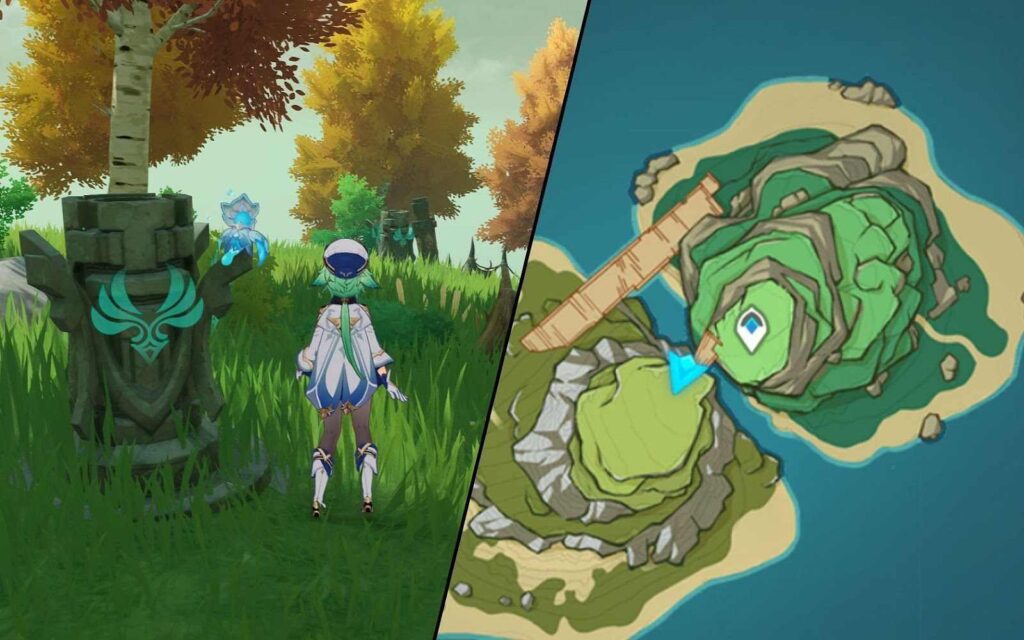 To get here, just go southeast from the teleportation point. It's not far, so you can't miss it. There will be some Hilichurls and a Cryo Void Mage in this location, so deal with them to make this puzzle more convenient. Add an Anemo character to the group if you haven't already.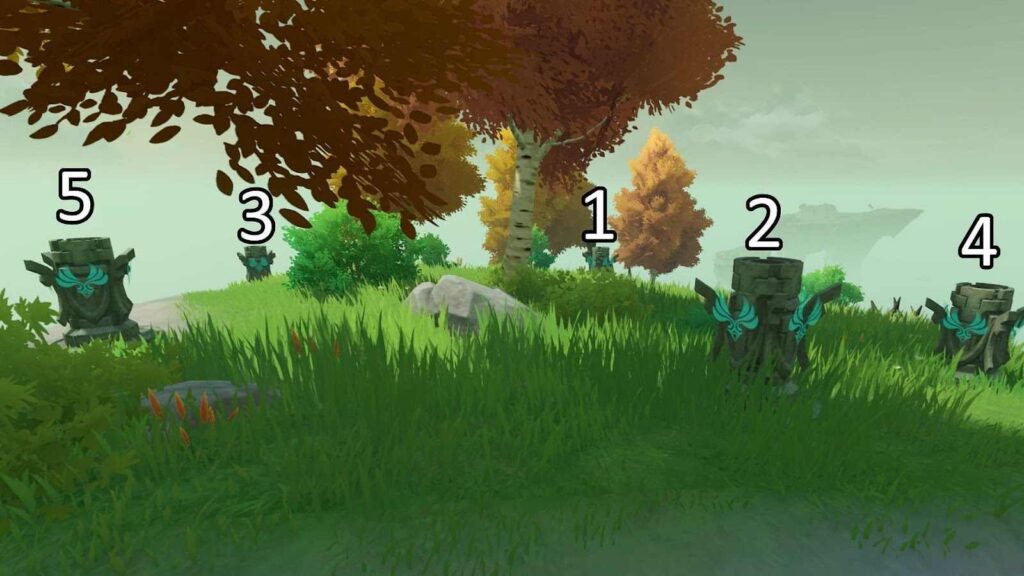 The aforementioned camera angle comes from the bridge that most players will presumably come from when trying to access this puzzle. It will face southwest if that's not obvious enough based on the image alone. Also, simply activate the following Anemo Monuments in that order to get another Rich Chest full of Primogems and other small loot.
Geo monuments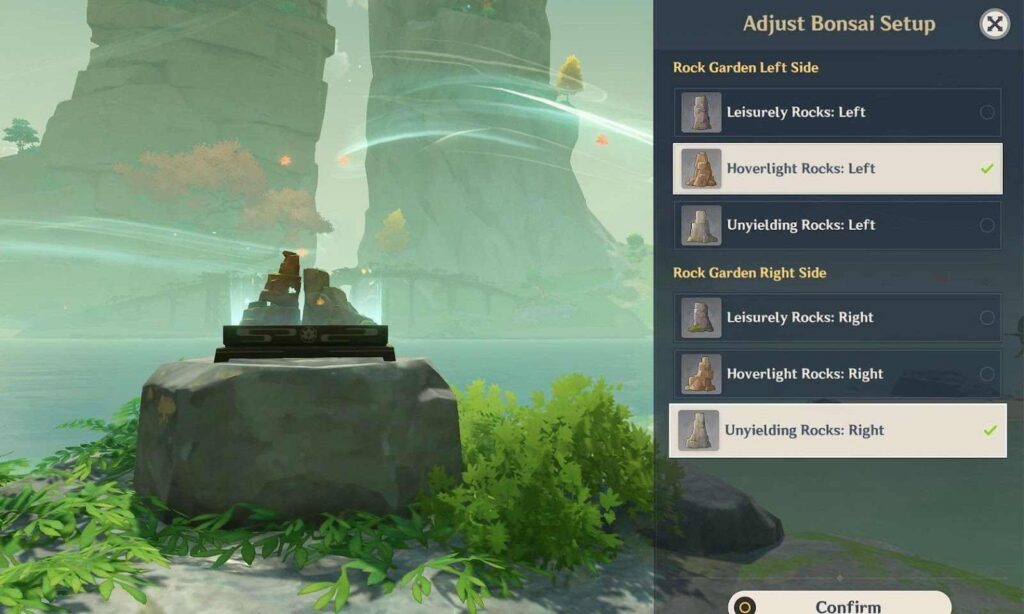 Return to the bonsai and rearrange it as follows.
Glowing stone: left
Steadfast Stone: Right
The left side does not change at all, but the right side does. Now go southwest from the Pudding Island teleportation point, to where the Anemo monuments used to be. Genshin Impact players should notice that they are no longer there, but some geo monuments are present instead.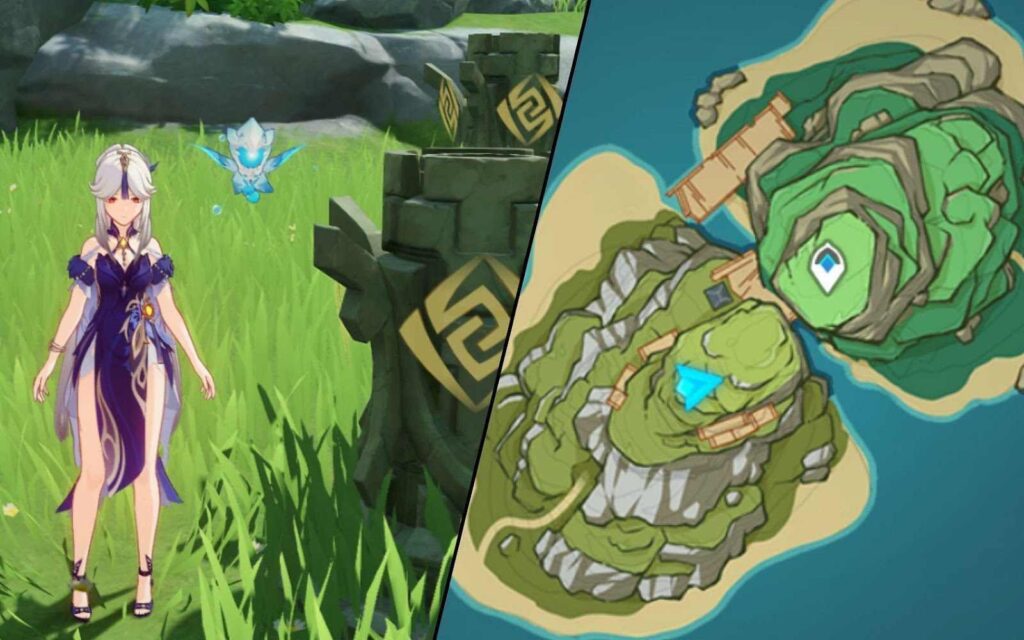 As usual, there are five monuments here. Use the character's Geo to activate them in a specific order, as shown in the following image.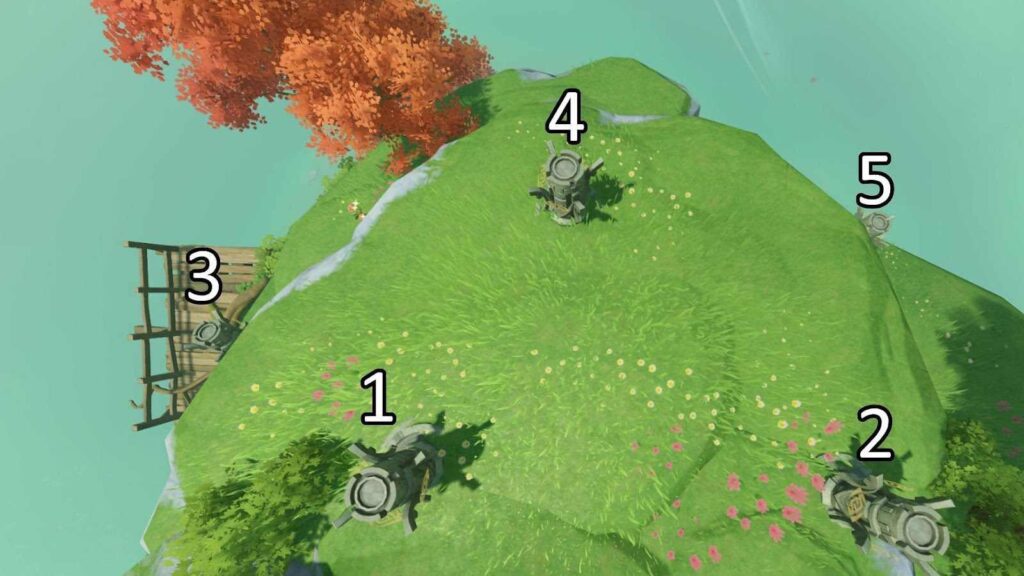 This image is another bird's eye shot of all the totems. The camera here looks southwest, as in the Anemo section of the monuments. Just activate the geo monuments in the following order to get the last rich chest.
Precious Chest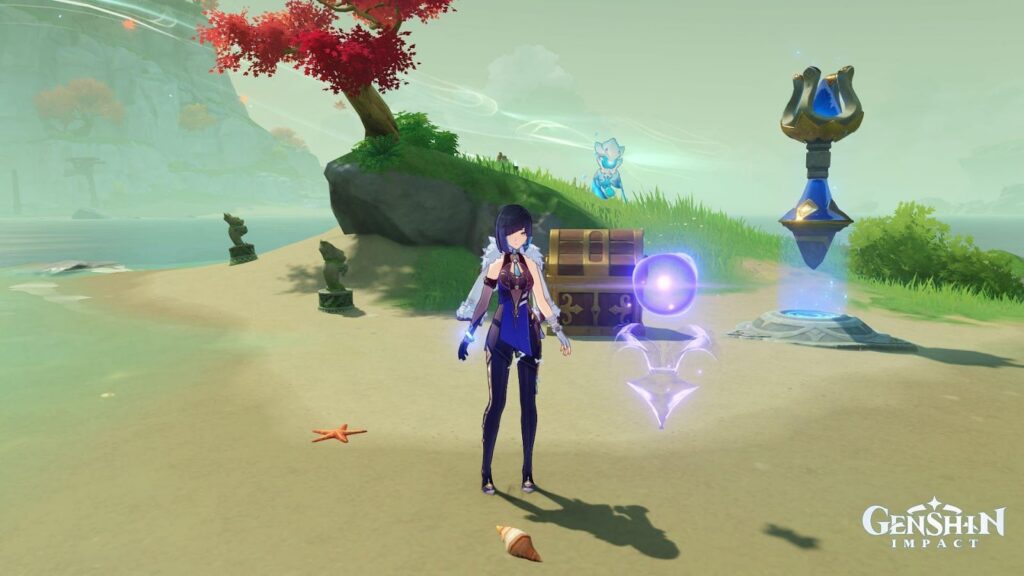 Return to the Electro Monument area, which is located northeast of the main teleportation point found on Pudding Island. There is an Electro Fairy to chase. Genshin Impact players may see some Rip Hounds here, but you can ignore them.
Continue southwest and follow Electro Fairy again. In the end, she will pass through the northwest teleportation point next to the bonsai. Here players will find a precious chest.
Now you know how to solve all the monument puzzles on Pudding Island and where to find the treasure chest in Genshin Impact Golden Apple Archipelago.