Ornamental Gold Dream Genshin Impact is an artifact set that is rumored to be released in version 3.0. You can get this artifact in Sumeru.
Ornamented golden dream set bonus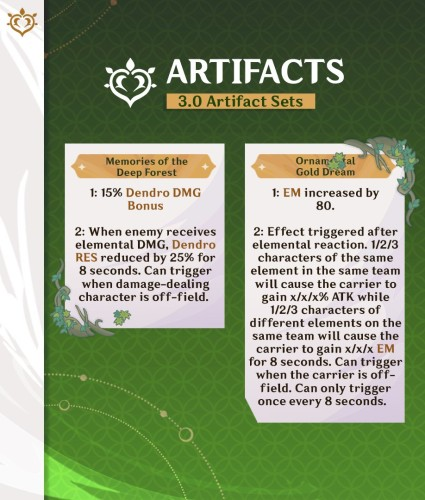 Installing effects
| | |
| --- | --- |
| 2 piece set | Increases Elemental Mastery by 80. |
| 4 piece set | the effect manifests itself after the elemental reaction. 1/2/3 characters of the same element give the wearer of the artifact x/x/x% to ATK, while 1/2/3 heroes of different elements cause the wearer to gain x/x/x elemental mastery. The bonus lasts 8 seconds and can be triggered every 8 seconds. It can be called even if the wearer is not on the battlefield. |
More information with the release of update 3.0.