When is Genshin 3.5 developer stream? This is a question that fans of the game have been wondering about, and on this page we provide a comprehensive answer explaining what to expect from the new version of Genshin Impact.
The highly anticipated Genshin Impact 3.5 update will be released in less than 2 weeks along with two brand new characters, Dehyey And Mika. HoYoverse will be hosting a special stream to reveal all upcoming events and character and weapon banners for the next patch, and the date has already been confirmed.
---
Genshin Impact 3.5 Developer Stream: Date and Time
Date and time of the event
MSC – February 17 (this Friday) at 15:00
Eastern Time — February 17 at 7:00
UTC time — February 17 at 12:00
CEST — February 17 at 2:00
Greenwich Mean Time – February 17 at 12:00
Australian Eastern Time — February 17 at 11:00
Australian Central Time — February 17 at 10:00
CET — February 17 at 1:00
Indian Standard Time — February 17 at 5:30
Pacific standard time – February 17 at 4:00 am
Western European Time — February 17 at 12:00
On what platforms?
• Twitch channel GenshinImpactOffical (https://twitch.tv/genshinimpactofficial)
(English language)
• Bilibili website (https://live.bilibili.com/21987615) (Chinese)
— At 16:00 Moscow time on the official YouTube (https://youtube.com/c/GenshinImpact) channel
(English language + Russian subtitles)
Curious fans can refer to the above timings and head over to the official Genshin Impact Twitch channel to watch the live broadcast of the special program. The show will also stream on YouTube; however, this may happen several hours after the Twitch show, similar to the v3.4 program.
During the show, HoYoverse will also give out three unique activation codeswhich can be exchanged for the following rewards:
300 Primogems
Wit of the Five Heroes
10 mystic ores
50,000 seas
---
How to Redeem Special Program Live Codes
During each special program livestream, developers share three unique codes that players can redeem for rewards such as primogems and mora. Each code can only be used once and there are two ways to activate it.
Activation of codes within the game
1) Enter the game.
2) Open the Paimon menu and click "Settings".
3) Navigate to the Account option and click Redeem Now.
3) Enter a valid code and click Redeem.
Activation codes on the official website
1) Go to Genshin Impact official website – https://genshin.hoyoverse.com/en/gift
2) Sign in with your HoYoverse account credentials, which will automatically fill in all the required details.
3) Enter a valid activation code and click Activate.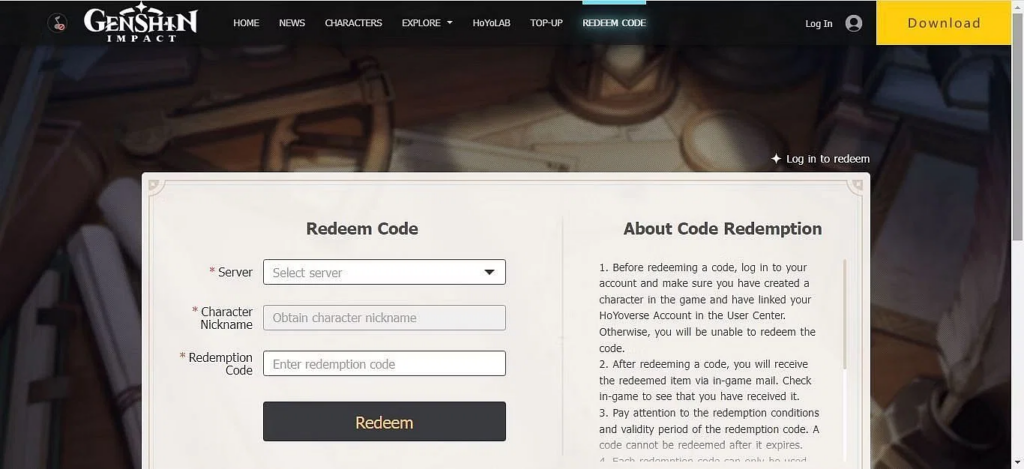 Rewards are sent directly to each player's account via the in-game mail system within 15 minutes of redeeming the code. It is recommended to activate all codes as soon as possible, as they expire after 16 hours.